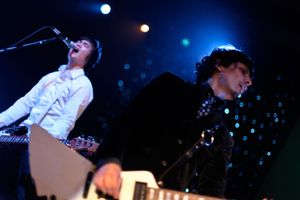 About The Slants
Portland's The Slants are one of the first and only all-Asian American dance rock bands in the world. They offer up catchy dance beats, strong hooks, and a bombastic live show that is "not to be missed" (The Westword). The Willamette Week says "While the band may well be best experienced live, Slants releases always promise a few blistering, note-perfect singles." The music is the perfect combination of 80's driven synth pop with hard-hitting indie, floor-filling beats which fans affectionately dub as "Chinatown Dance Rock." 
They've been featured with Conan O'Brien's Team Coco, The Daily Show with Trevor Noah, Rolling Stone, Pitchfork, SPIN, BBC, NPR, and over 3,500 radio stations, tv shows, magazines, and websites across 125 countries. 
The band might be best known for their battle against the U.S Trademark Office over the rights to their name, which brought them before the Supreme Court of the United States. 
Over 30 international tours, including appearances in 48 of 50 U.S states, have led to headlining showcases at major festivals such as SXSW, MusicfestNW, San Diego Comic-Con, and Dragon Con. The band has also provided support for The Decemberists, Mindless Self Indulgence, and Shonen Knife as well as shared the stage at events with Katy Perry, Janelle Monae, and many others. In 2011, The Slants worked with the Department of Defense for a series of shows at U.S and NATO bases in Eastern Europe, dubbed "Operation Gratitude." In 2017, The Slants joined President Barack Obama, George Takei, Jeremy Lin, and other celebrities for an anti-bullying campaign known as #ActtoChange. 
They've won "Album of the Year" and "Editor's Choice" from dozens of magazines, including Willamette Week, LA Weekly, Shojo Beat, Village Voice, City Beat, and Rockwired. 
In late 2019, the band retired from live touring as a full band to focus their efforts on their nonprofit organization, The Slants Foundation. The group is still actively writing and recording.