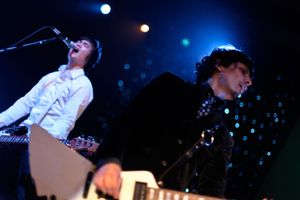 How it all started
April 3, 2004.  
That was the day that the idea for The Slants was born. I know it because that was the day that Quentin Tarantino's Kill Bill was released on DVD. I can still remember the bright yellow disc with black stripes on it sitting in the tray, sliding back into the player as I started the film.  That same imagery would later inspire some of the artwork for our fourth release, The Yellow Album. 
There's an iconic scene in Kill Bill that is famous because it introduced the world to the Crazy 88's, as well as Tomoyasu Hotei's kickass song, "Battle Without Honor or Humanity" (we later remixed this song to use as an intro at shows). Oren Ishii, played by Lucy Liu, walks into The House of Blue Leaves sushi restaurant, accompanied by her yakuza gang behind her. For most people, it was just another cool walking scene, reminiscent of Tarantino's style. But for me, it was different: it was the first time that I had ever seen Asians depicted together as cool, confident, and sexy in a major American produced film. And it was in that moment that I realized that despite having over 17 million Asian Americans in the U.S, our communities had almost no representation in the Billboard charts, major music magazines, or rock clubs. 
Sure, sometimes a magazine would cover a hip underground Japanese band like Shonen Knife or The Polysix, but no one was paying any attention to U.S. born Asians – who were every bit as American as the non-Asians plastered across every conceivable album on display. So I wanted to shake things up. I had the idea but I lacked two very important things: a name and a band of Asian American musicians. 
I started telling friends about the idea and how I wanted to turn some of the preconceptions about Asians upside-down (especially growing up with a life of being bullied). I asked, "What is something that you think all Asians have in common?" Immediately, they said "slanted eyes." Interesting, I thought…especially since that stereotype is false. But the term stuck with me and suddenly, the name of the band was there: The Slants. 
As The Slants, we could share our perspective, or slant, on life as Asian Pacific Islanders (APIs). We could also expose the misconception – and, for those of us who experienced shame as a result for having the physical trait, we could turn it into a point of pride instead.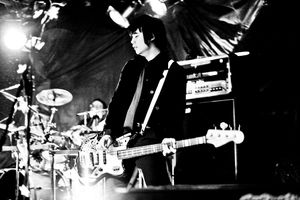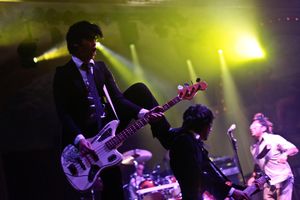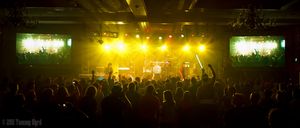 As the momentum was growing, we made the decision in 2009 to leave our jobs and tour full-time. But it was too much for some members and we had some more lineup changes. That's when I started talking to Tyler Chen again – he originally auditioned for the band when it was just an idea but decided it wasn't the right fit for him. As he watched the band take off, he decided to give it another chance.   
Soon, the six of us became four and we toured as a bare-bones, all-Asian American rock n' roll machine with a greater focus on our guitars. We released Pageantry, an album that paid homage to our stories on the road and reflected the harder-hitting lineup. For the first time, we even released songs that didn't have keyboards, including Who Shot the Radio?, Astoria, and Every Chance I Get.  
Around this time, our attorney recommended that we file a registration for our band's trademark. "It's simple," he said. "Many bands do this, it's pretty inexpensive and only takes a few months to get." Later, those words would haunt me. But I didn't know it at the time- we were too busy touring, playing at anime conventions, holding anti-racism workshops, and making music to worry about how this simple decision would affect our band.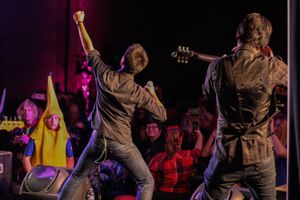 Of course, most people now know us as the band fighting a court case against the Trademark Office, and not necessarily the band fighting against stereotypes. Armed with UrbanDictionary.com and a photograph of Miley Cyrus pulling her eyes back in a slant-eye gesture, the Trademark Office accused our band name of being disparaging, or racist, towards Asians. We fought against this, hard. We sent thousands of pages of evidence, including independent surveys, linguistics experts, letters from API leaders, and other examples of Asian Americans using "slant" in a positive, self-referential way. Along the way, we finally convinced our friend, Thai Dao, to join the band and he was soon involved in a battle that he didn't quite sign up for. His first show with us was the day after The Oregonian featured a story about our trademark troubles on the front page.  
My time started getting divided between writing and performing music, going back to a day job, doing legal research, and traveling as a speaker to rally support for our case. Then, our attorney asked a simple question of the Trademark Office: "Why was The Slants considered disparaging while hundreds of other applications for 'slant' were approved without the same accusation?" The government's response was troubling. We were "too Asian."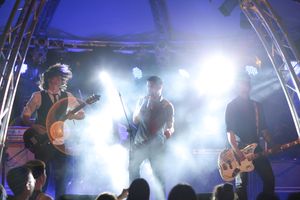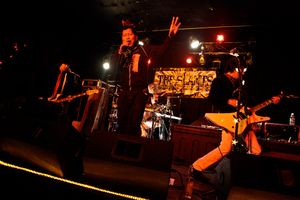 Meanwhile, other parts of the government thought our work in promoting Asian American culture was exceptionally important and we were asked to perform for the Department of Defense, federal prisons, and for international diplomats from Asia. We often got invited by the White House to help President Obama on an anti-bullying campaign years later. The infuriating battle, as well as deep irony in the government's position, provided angst for several new songs that laid the groundwork for The Yellow Album.  But the twists and turns of our legal battle, combined with an aggressive touring schedule, led to multiple turnovers in the two years that followed the release of the album.  
Jonathan Fontanilla, my close friend and primary co-writer of most of our music, wanted to focus on a new relationship. Aron Moxley, our lead singer, started a new job that prevented him from touring or playing weekend shows with us. Thai Dao, received a promotion at work and would no longer be able to travel. And Will Moore, a temporary replacement for Jonathan, wanted to focus on his own band, whose schedule conflicted with ours far too often. Tyler and I stuck through every bit of it.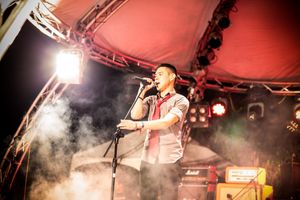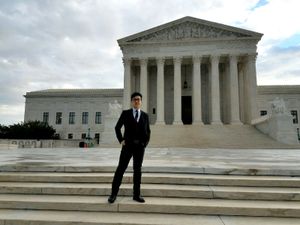 On Martin Luther King Jr. day 2017, less than a week before we'd appear at the highest court in the country, we released an E.P called The Band Who Must Not Be Named and dedicated it to the government. Six months later, our rights were vindicated when the Supreme Court ruled, unanimously, that The Slants should be a registered trademark. By then, our band was back down to three: Ken, Joe, and me.  
In mid-2018, we started a 501(c)3 organization, The Slants Foundation, so we could provide scholarships and mentorship to aspiring artists and activists of color. To reflect this, our band has been working on collaborations with other Asian American artists so our new music and performances reflect an ever-rotating cast of musicians that highlight our diverse experiences. In fact, our band members will jump on stage with us from time to time. It became what I originally sought after: identity and community.  
That history – all of it – has really been ingrained into our work. We've merged arts and activism, rock n' roll and geeky anime culture, and touring as a band as well touring as speakers, into the very fabric of this band.  
In November 2019, we finally decided to retire from live touring as "The Slants" to better focus on our nonprofit work. We still continue to write and collaborate on projects, but our focus is entirely different now. We're looking for new ways to change the culture and make things easier for the next generation of Asian American artists.