Joe X. Jiang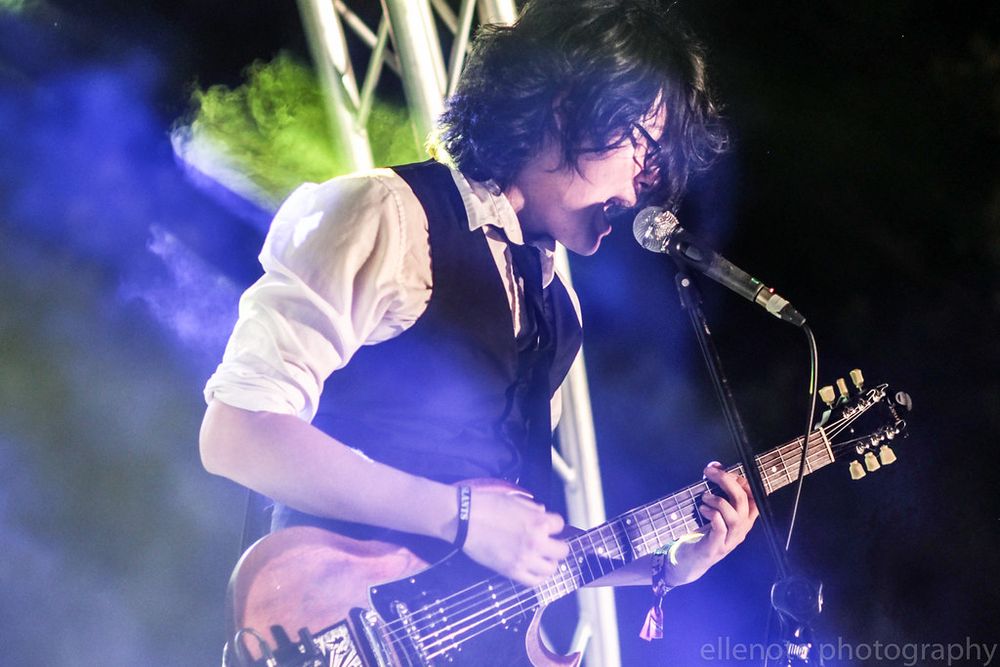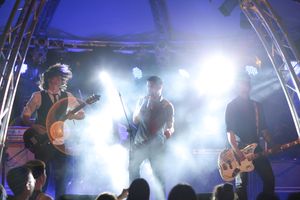 BIGGEST INSPIRATION:
Radiohead, Tegan and Sara, BB King, Pink Floyd, Wu Tang Clan, Smashing Pumpkins, Bjork, Regina Spector, Miles Davis, The Cure, Tupac, DJ Shadow, Tom Waits, Nick Cave, Fiona Apple… I think I'm just listing music I liked from when I decided to play music. Oh, and Dave Matthews Band for inspiring my granola phase and picking up a guitar.

FAVORITE MEMORIES:
Traveling through Taiwan eating everything in sight and making a tour documentary about it...and eating at Sushi Nakazawa in the middle of a self imposed 13 slice pizza binge in one NYC weekend. How does one chase a fancy $150 sushi tasting? With two more garbage slices of pizza. 
The music performing part of those tours were great and all, but I remember with my stomach.
MOST MEMORABLE SHOW:
This was a show where Simon and I performed as a duo. It was a Knoxville, TN outdoor summer festival. It was the first time I sang lead and it was hands down the worst performance of all time. There was a bad combo of anxiety and heat stroke (it was 80-90 degrees out and we performed in the sun) and I forgot every lyric to every song. It took a lot of mumbling just to get through the interminable set. And I'll never forget the disappointed faces of the people getting up and walking out. In another life, that would have been the last show I ever played and I'd be at a desk job right now. But instead, it was a learning experience, and after a hundred plus shows with Simon and some solo gigs, I realize how important it was for me to fail that first time and keep going.
STRANGEST MOMENT:
Hmm… going to a Hollywood party with some of my favorite comedic performers or sleeping on a pornstar's couch. Oh wait, same weekend.
MOST PROUD OF:
From a personal level, joining The Slants was about facing certain anxieties and going out of my comfort zone. Learning to perform live, making embarrassing mistakes (Knoxville show ugh) and coming back for more, writing and releasing music to the world, getting over travel/flying anxiety… these are experiences that I'm proud to have faced up to. And of course, there is a lot of pride in contributing to both the band and the foundation, knowing that the work had impact and purpose.
What are you up to these days?
I'm all vaxxed up and ready to get back out into the world! The pandemic taught me some major lessons about physical and, particularly, mental health and I'm reminded of the opportunities and privileges that I have to pursue projects that are meaningful and rewarding. I'm getting back into the freelance video production world with a few documentary projects on the horizon, and still writing songs and working on collaborative musical projects. The rest of my time is dedicated to nonprofit work, whether it's for The Slants Foundation, or AMP/APANO here in Portland, as well as other organizations whenever I can.
This is a b-roll screen cap from the Level Up shoot. It was one of my favorite things I've ever gotten to direct. Simon got us hooked up with the Quarterworld arcade in Portland and I got to invite friends from all over Oregon to come hang out and play video games as extras in the music video. This shot means a lot to me because originally, since we had a very low budget, I only asked my filmmaker friend Evan (on the left) to come help shoot this for peanuts ($150?), expecting it just to be a simple run and gun shoot. Instead, Evan called up other filmmaking buddies, including Bryan (dancing?) and David (background), and we ended up with a crew of over a dozen professionals, multiple cameras, David's jib/crane, and a full lighting rig. All for basically beer money. It was a great intersection of my artistic worlds, with people who create for the love of it.